Grand Strand Dining, Shopping, Attractions and Activities!
What to Do All Along The Grand Strand?
Sixty miles of pristine beaches, an abundance of accommodations for all budgets and family sizes, and so many attractions you'll have to return for years to come to experience them all!  This is what makes a Grand Strand vacation one of the best family trips in the United States and one that will be remembered for years to come!!
Accessible within a day's drive from a majority of the Eastern United States, our family friendly beaches remain a favorite year after year because it offers a combination of activities and new adventures added annually!  
Perhaps the best part of a Grand Strand vacation is that families can do as little or as much as they want!  This makes it ideal for spending quality time together!  That should be the focus of every family vacation, so make the greater Grand Strand area your next family getaway destination!  
Wondering where to start to plan your vacation itinerary?  Check out our "things to do" section below  and contact us today to start your Grand Strand family vacation!!
Traveling with a large group or just on a weekend getaway, there is fun and adventure waiting for you at one of the area's many entertaining attractions!
The wide variety of attractions and activities ensure that there is something for everyone to do, no matter your age!  Let Beach Life Vacations help you plan your Grand Strand vacation where you and your family will make memories that will last a lifetime!!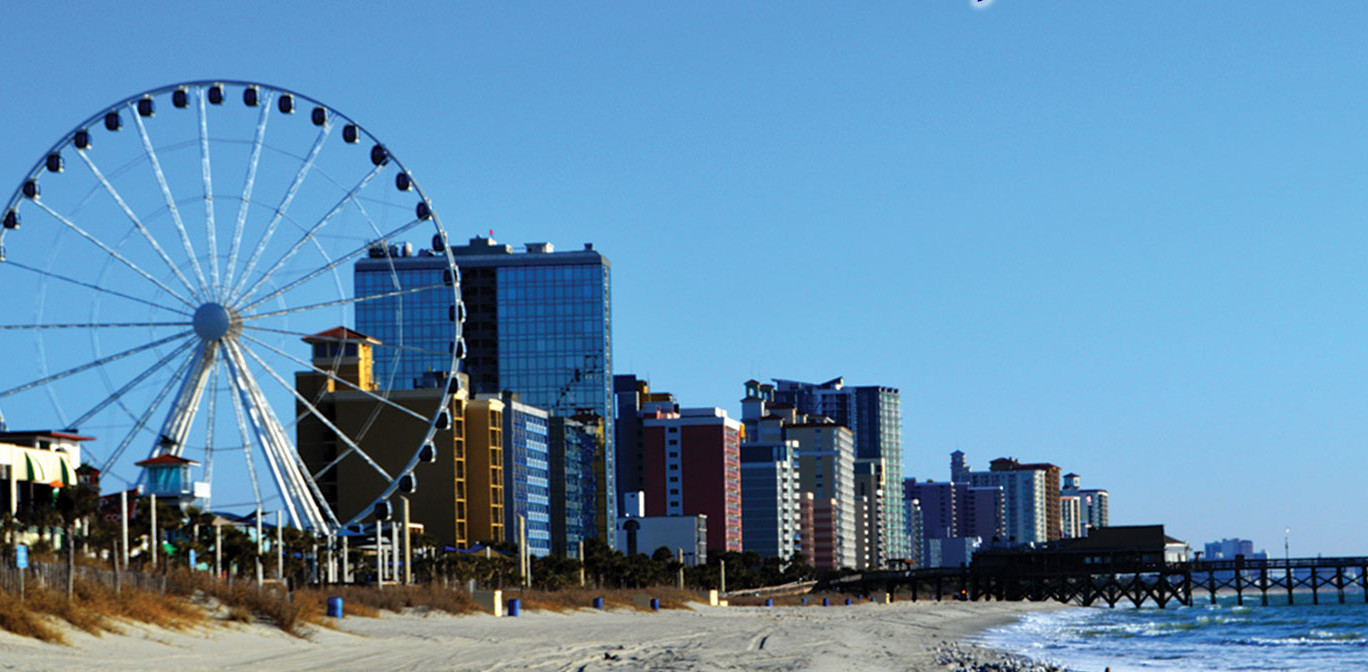 Located in the center of the boardwalk, the Myrtle Beach SkyWheel gives you a bird's eye view of the Grand Strand! It is the highest observation point of the Atlantic Ocean in North America and the only 200-foot ferris wheel on the eastern seaboard! Even if you don't ride, you can still enjoy the impressive nightly light show on the wheel!
Ripley's Aquarium is an 85,000 square foot, multilevel overwhelmingly impressive collection of the wonders of the sea! From the large tanks to small tanks, their exhibits are interactive, educational, and fun for the whole family! In addition to their year-round sea life exhibits, they have seasonal and traveling exhibits so that each time you visit you can experience something new!
The aquarium also offers exciting experiences such as diving with sharks, the stingray experience, glass bottom boat adventure, and more!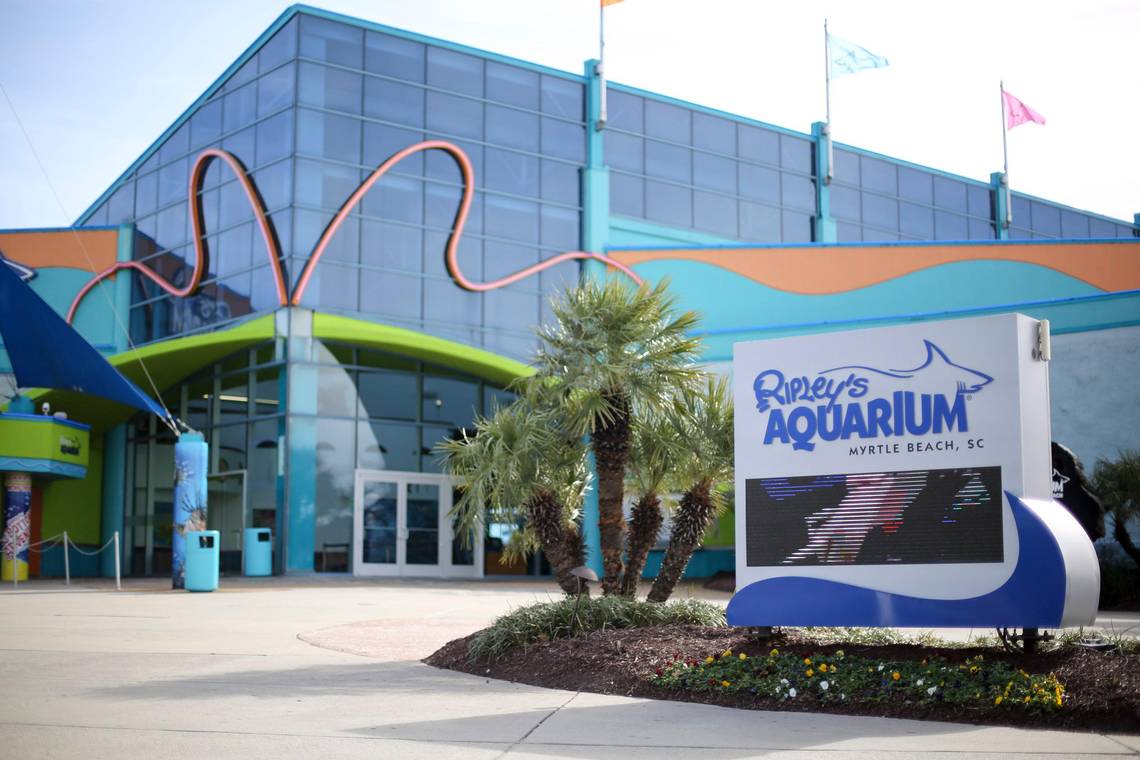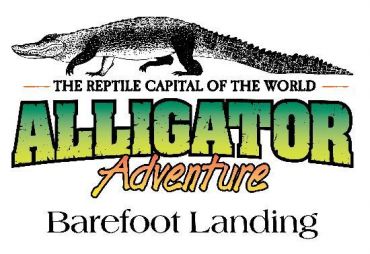 At Alligator Adventure you'll find yourself face to face with nature's fiercest and most beautiful animals, some native to South Carolina's Lowcountry! Located near Barefoot Landing in North Myrtle Beach, one of South Carolina's most outstanding tourist attractions, Alligator Adventure is one of the largest facilities for reptile life in the world! This is one of our favorite attractions in the area….don't miss out on this fun-filled family adventure!
Located just south of Murrells Inlet, Brookgreen Gardens is a unique melding of art, nature, and history! Locals take pride in the fact that in their midst is one of America's premier gardens! Brookgreen Gardens is one of a few select places in the United States to have earned accreditation from the American Alliance of Museums and the Association of Zoos and Aquariums as well as being designated a National Historic Landmark and listed on the National Register of Historic Places.
Everyday, Brookgreen offers a selection of tours, programs, and exhibits for all ages! You may stroll through the gardens on a guided tour or explore these beautiful spaces on your own. Each season, new exhibitions and special events make Brookgreen Gardens…simply amazing!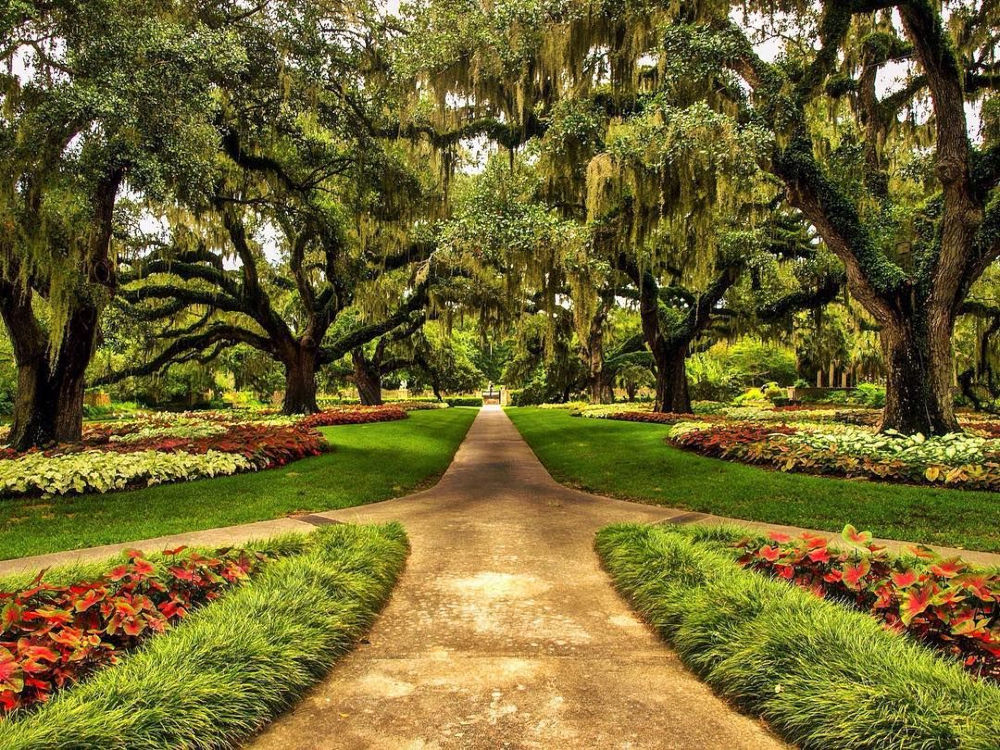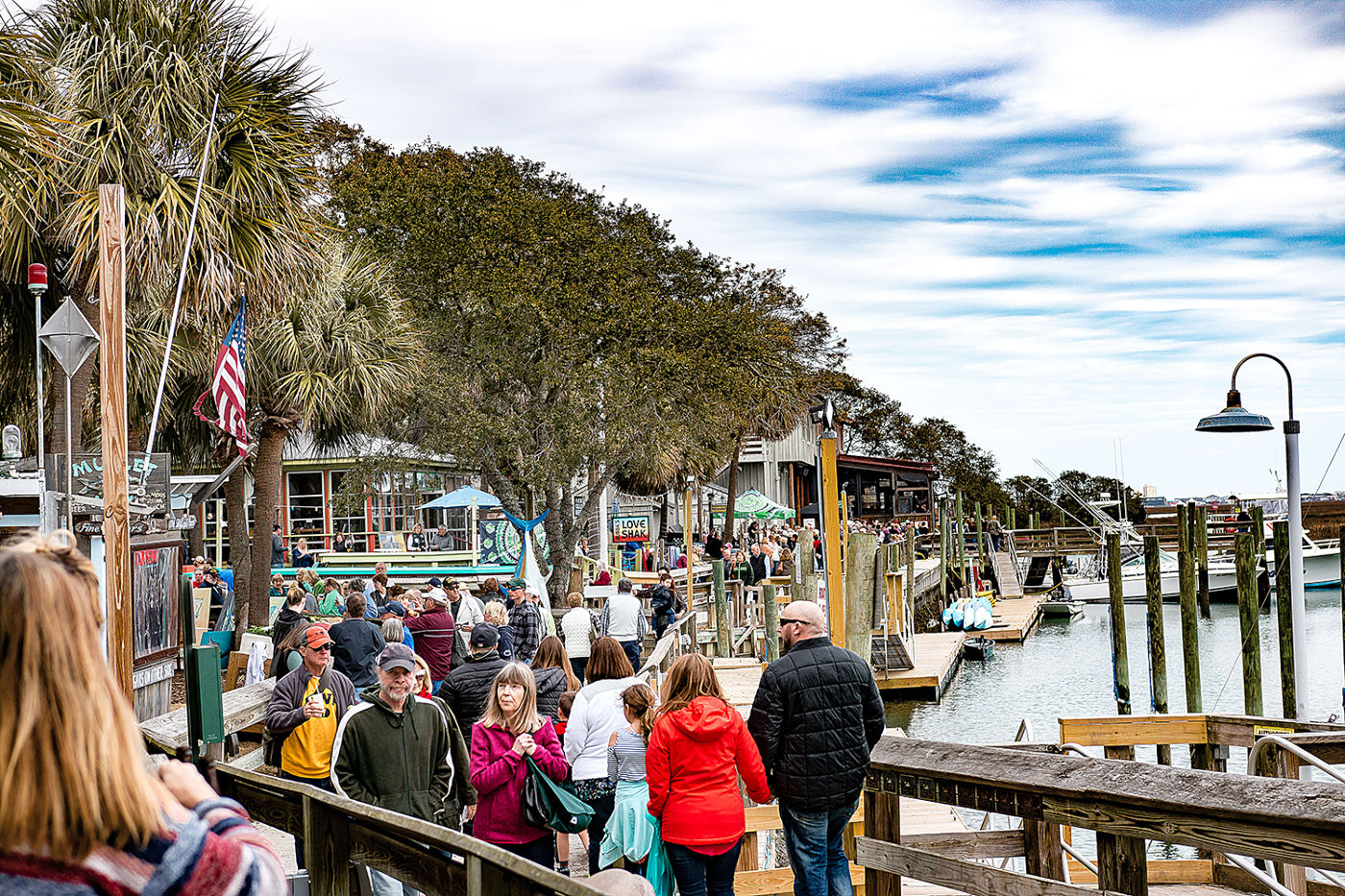 The MarshWalk, located in the heart of the historic fishing village of Murrells Inlet, is a half-mile wooden boardwalk along a natural saltwater estuary. The MarshWalk proudly boasts the most spectacular waterfront dining along the Grand Strand! Lowcountry cuisine is commonplace here; so are fresh seafood, the finest steaks, and a range of mouthwatering delicacies prepared by award-winning chefs.
As warm salt-air breezes drift across the water and the marsh grasses dance, great white herons, blue herons, pelicans and more plunder through the pluff mud in search of the water's treasures!  Murrels Inlet is proudly known as "The Seafood Capital of South Carolina"….don't miss out on enjoying a fresh caught meal at this local gem!!
"Take me out to the ballgame!"  Did you know that Myrtle Beach has it's very own class A baseball team affiliated with the Chicago Cubs?  The Myrtle Beach Pelicans have enjoyed countless successful seasons and boasts of a state-of-the-art stadium to boot!   Enjoy a fun-filled night at the ball park during your stay in Myrtle Beach!  Voted the #1 minor league ballpark experience, you are sure to have a fun-filled family outing taking in a ballgame and also enjoying tons of yummy ballpark food offerings!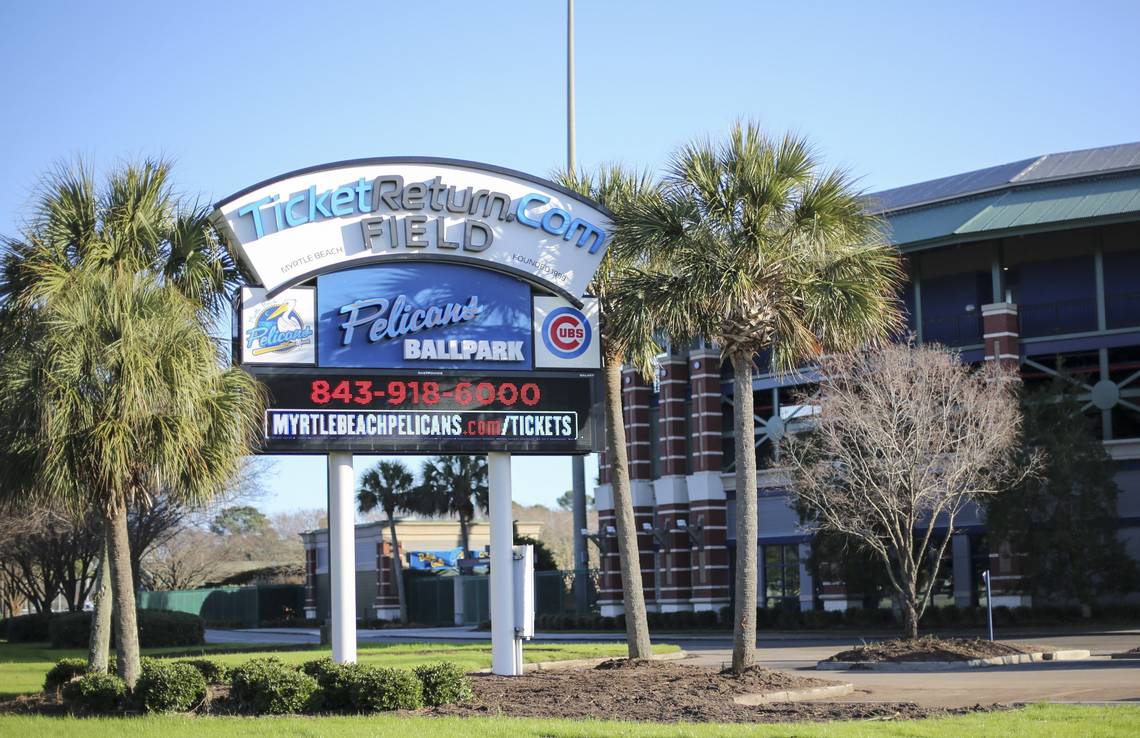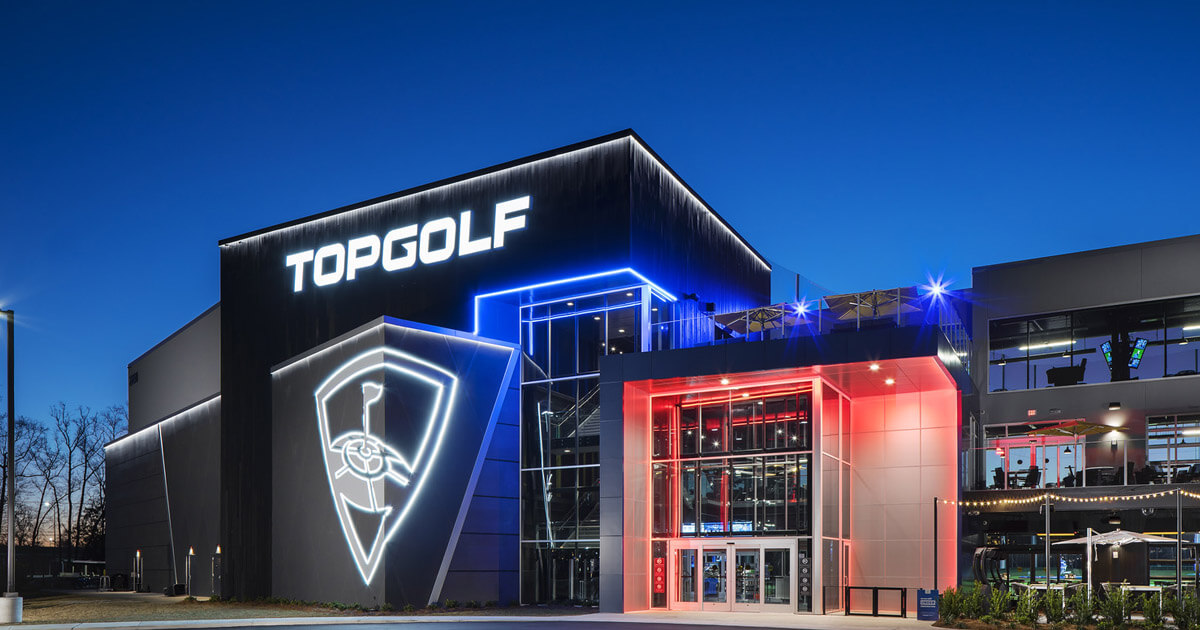 Not a golfer?  No problem! Topgolf is a game that anyone can play (and win)!  Score points by hitting micro-chipped golf balls at giant dartboard-like targets on an outfield. The closer you get your ball to the center,  or 'bullseye', and the further the distance, the more points earned!
The fun and games don't stop there; you can even indulge in delicious food and drinks brought to you while you play!  What could be better?
With more than 1,500 restaurants to choose from, dining all along the Grand Strand is a true pleasure!  Whether you love fine dining, a casual bistro, something kid-friendly or a table with a view, it's all here!!  Here's a list of just a few of our staff favorites to  to help plan your Grand Strand vacation just a little bit easier!!
A dream and a vision, with a passion for pleasing!  Chef Evi presents Blueberry's Grill. Tantalize your taste buds with unique twists on your favorite classic foods, prepared with only the finest, fresh ingredients. Blueberry's Grill is the ultimate culinary experience from start to finish!!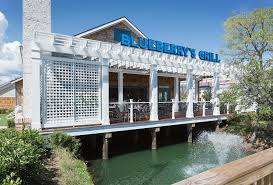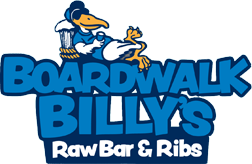 Boardwalk Billy's is located on the Doc Holidays Marina overlooking the beautiful Intracoastal Waterway!  Boardwalk Billy's is a casual, family friendly restaurant with a view you cannot beat! Whether you sit inside in their cozy dining room or outside on the spacious deck, you'll have the same great food and service every time!  Enjoy the relaxed atmosphere, daily happy hour food & drink specials, live entertainment, and delicious dishes that are sure to satisfy any appetite! 
The Chesapeake House makes it their top priority to ensure you have the best dining experience when you're at their Myrtle Beach location!  From the great scenery, to using only the freshest of ingredients, to even being able to take home some "do-it-yourself" food kits, they make sure your time spent with is memorable! Don't leave without getting one of their "mouth-watering" cinnamon rolls!  They're incredible!!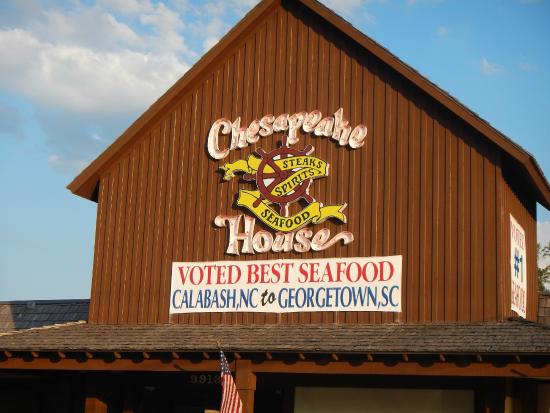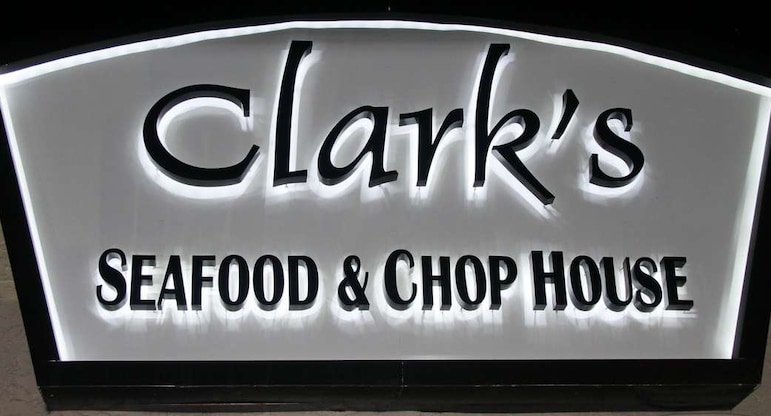 The ultimate in Grand Strand Area Chophouse dining, Clark's is comfortable yet sophisticated and soaks up the beautiful Coquina Harbor for the perfect backdrop to delicious dining! 
Clark's offers only USDA Choice steaks, and their awe-inspiring 14 oz. New York Strip, 9 oz. Filet Mignon, and Prime Rib are all served charred and bursting with prime aged flavor!  Seafood is fresh and local, with a twist of seafood favorites which include oysters, shrimp, scallops and their fresh catch of the day.
The bar menu includes an extensive wine list which features a wide array of wines by the glass and bottle, specialty martinis and cocktails and plenty of beers on tap!  Great cuisine takes center stage at this phenomenal Little River restaurant…..this is one not to be missed!!
Crab Catchers can be summed up simply by saying; fresh, local, casual, excellent everytime, waterfront dining at its best!  This hidden gem in Little River, SC is a wonderfully laid back, outdoor restaurant beautfully situated on the ICW and serving some of the freshest seafood along the Grand Strand!  Crab leg lover?  This is your place!  Crab Catcher's offers delicious seafood prepared fresh and made to order every time which keeps guests returning to this treasure year after year!!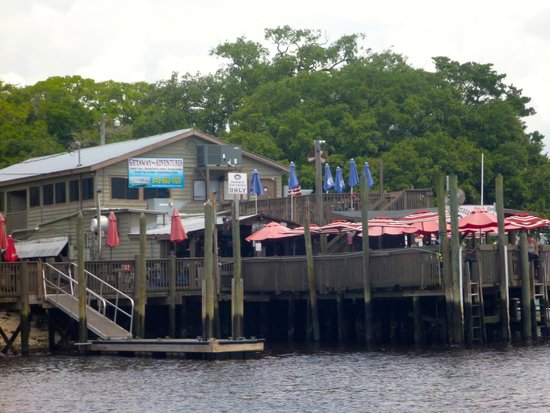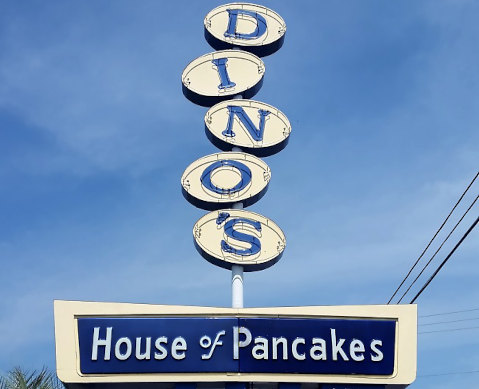 This family-owned, North Myrtle Beach mainstay is a great place to fill up the whole family at a fraction of the price!  Whether you and your people are in the mood for a hearty breakfast including a tall stack of pancakes, or a home-cooked lunch with all the fixins, they're serving up both!  Don't miss this local favorite!!
The Original Hamburger Joe's opened right after Hurricane Hugo on October 11, 1989 by Joe Brooks.
He started out in 1972 with a chain of successful seafood restaurants (220 Seafood) in NC & VA. He came to the beach in 1978 and opened White Point Seafood Restaurant which is now the site of The House of Blues at Barefoot Landing. In the mid-80's, Joe wanted to offer casual fine dining to beach and golf enthusiasts, so he opened Joe's Bar & Grill. Having the name, 'Bar & Grill', many thought it was a burger joint, so Joe said let's open a burger joint, and that he did!  An old-fashioned burger joint called nothing other than Hamburger Joe's!
Joe now has just the one Hamburger Joe's in North Myrtle Beach and a 2nd location in Surfside Beach. Mid-way through their 27th season, Joe and his crew assure you that they will do everything to see you and serve you in the next 30 years to come!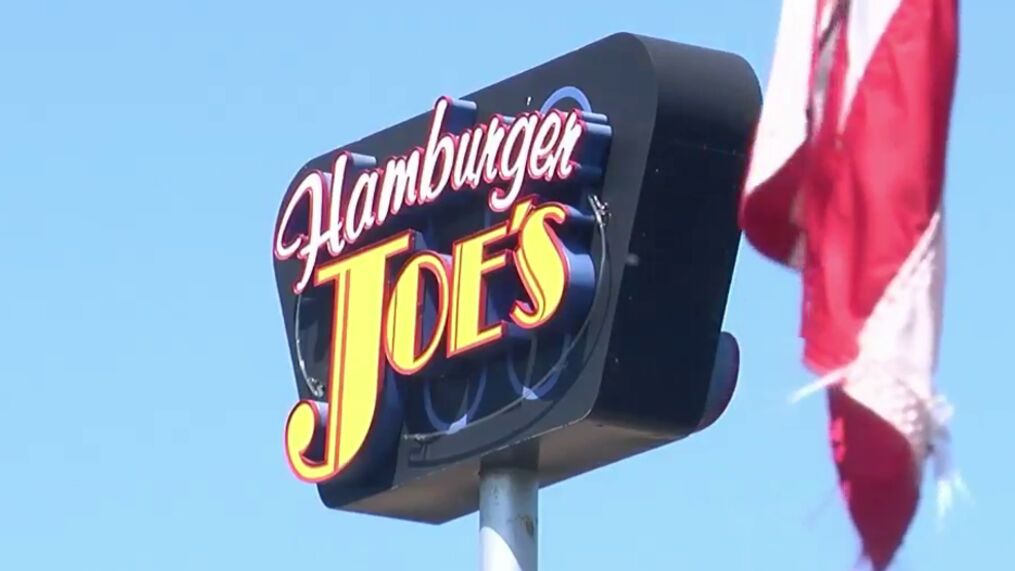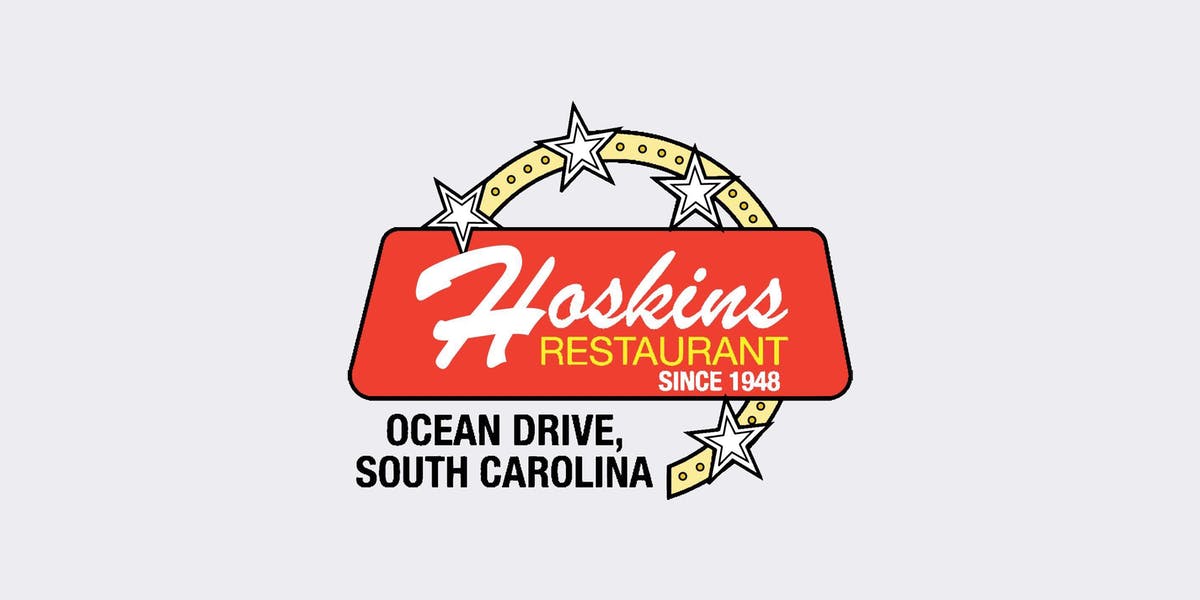 If you're looking for good seafood where the locals go, this is the place!  Excellent seafood platters, famous whole flounder, and amazing "meat and three" lunch specials, just one taste and you'll quickly realize why Hoskins Restaurant has been a local favorite since 1948!  Serving breakfast, lunch, and dinner, Hoskins is a North Myrtle Beach institution for sure!  
Snooky's Oceanfront offers the freshest seafood in North Myrtle Beach, South Carolina. The mouth-watering menu includes everything from delicious gulf oysters on the half-shell, pan seared beef tips, hearty salads and juicy burgers to an extensive offering of incredible seafood and meat entrees.
They also feature a full bar and friendly staff who's mission is to make every visit unforgettable for our guests.
Snooky's Oceanfront has something for everyone – Located in the Cherry Grove section of North Myrtle Beach, they are easily accessible from the Intercoastal Waterway and Highway 17. Oceanfront dining, drinks, and music at it's best!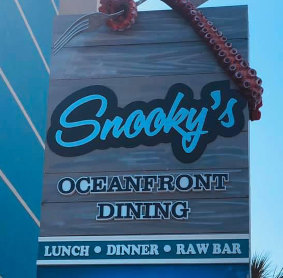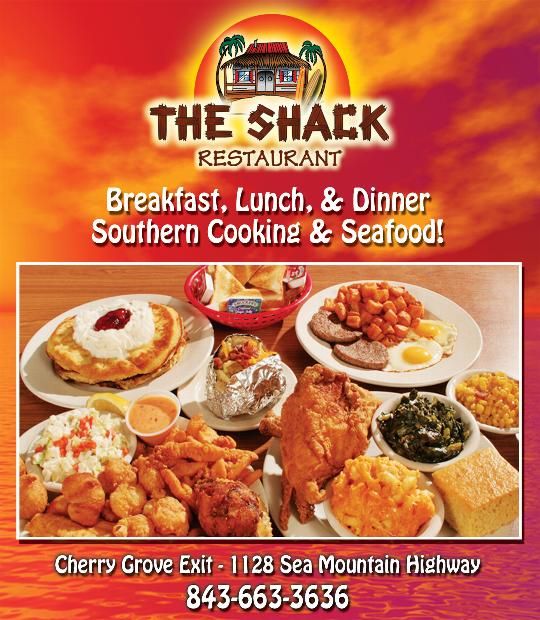 Located on Sea Mountain Highway in the Cherry Grove section of North Myrtle Beach, is this treasured favorite, The Shack!  Serving up breakfast, lunch, and dinner, The Shack is THE PLACE to go to for true Southern country cookin' and excellent seafood dinners!  The Shack prides itself on serving quality food at affordable prices in a fun and clean atmosphere!  Like their motto says, "Put Some South in Yo' Mouth"!
Villa Tuscanna is family owned and run restaurant that established in 2003. They work with local produce and fish companies to provide the freshest items in the market. They are one of the top rated restaurants in North Myrtle Beach
The love of wines and quality food is the priority at Villa!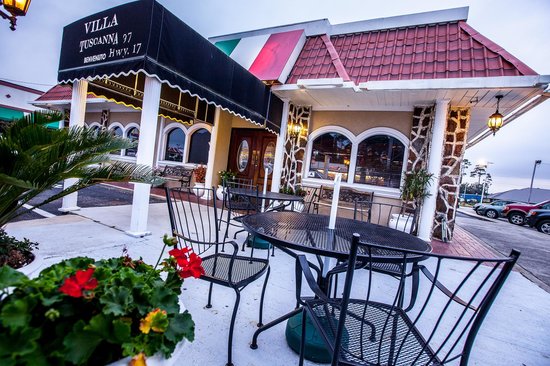 Myrtle Beach entertainment venues are the perfect complement to a wonderful beach vacation! Since 1986, when Calvin Gilmore and The Carolina Opry pioneered the Myrtle Beach area's theater boom, the area has emerged as a hotspot for live family entertainment – offering the best in shows, music, dance, comedy, dinner theater, celebrity concerts, and movies!
Experience the vast array of shows and local venues on your Grand Strand vacation, including live theater, dinner shows, variety shows, concert halls, movie theaters and so much more!!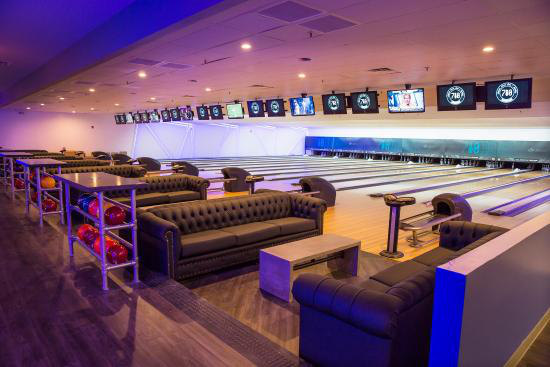 810 Billiards & Bowling creates a fun and casual atmosphere where anyone can feel welcomed and relaxed, all while enjoying a good time! 
Maybe you want to relax over a quiet game of chess and a glass of wine? Or maybe a night of billiards and cocktails is more your speed. How about a pitcher, some sliders and a few frames of 10-pin? Whatever your preference, they have you and your family covered!!
Myrtle Beach's greatest Live Variety Show! The Alabama Theatre's exciting music and comedy shows are the highlight of any family vacation. Enjoy live shows, toe-stomping beats, breath-taking acrobatics, and side-splitting comedy. Founded in 1993, The Alabama Theatre has been entertaining millions of guests who visit the Myrtle Beach area. A visit to the Grand Strand is not complete without a visit to North Myrtle Beach's main entertainment venue, The Alabama Theatre!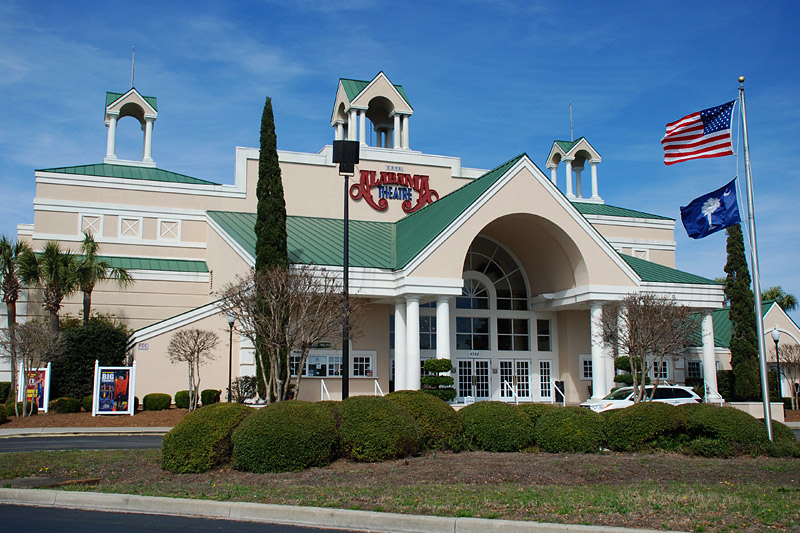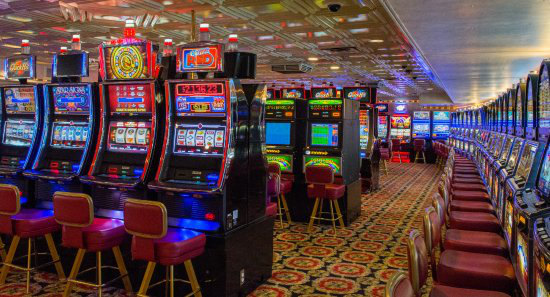 Enjoy the sites, party in style, and win some money aboard South Carolina's only gambling cruise available!
​
With Little River just being minutes away from the Grand Strand area, The Big "M" Casino is the perfect choice for  a fun-filled time and hopefully encountering Lady Luck along the way!
​
Once on board, you'll get to test your skills with table games like Blackjack, Let It Ride and 3 Card Poker.
Looking for an adventure that may be out of the ordinary?  Check out the Big "M" Casino, setting sail right in Little River, SC!
Comedy Cabana is Myrtle Beach's Only 5 Star Comedy Club for 25 years and running featuring 3 new professional comics weekly.
Only the best of the best have performed on their stage and they just keep coming! Forget TV, see them LIVE at the beach's #1 hot spot for live comedy, The Comedy Cabana!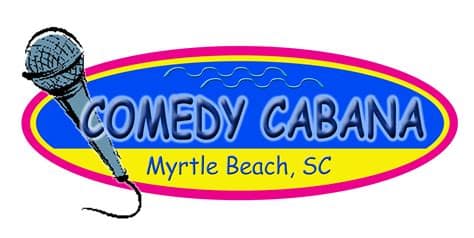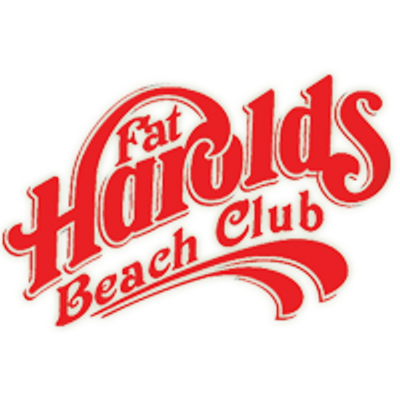 North Myrtle Beach is home of "The Shag"; also known as South Carolina's State Dance and Fat Harold's is it's home!  Fat Harold's was inducted into the Carolina Beach Music Awards Hall of Fame back in 1996. Fat Harold's was Named CBMA Club of the Year 13 times before withdrawing from consideration to let some of the other great clubs in the industry get recognized. Want to learn how to shag dance and watch some of greats?  Stop by Fat Harold's for the best beach music and shag dancing in the area!  
The House of Blues grew out of founder Isaac Tigrett's love for the unique American art form known as the "the Blues". Weaned on this music during his early childhood in Tennessee, one of Isaac's goals was to introduce the world to the music of the rural south, including the Blues, Rhythm and Blues, Gospel, Jazz and Roots-based Rock & Roll. The House of Blues is an attraction not to be missed while visiting the Grand Strand….be sure to check out their schedule of bands coming in concert!!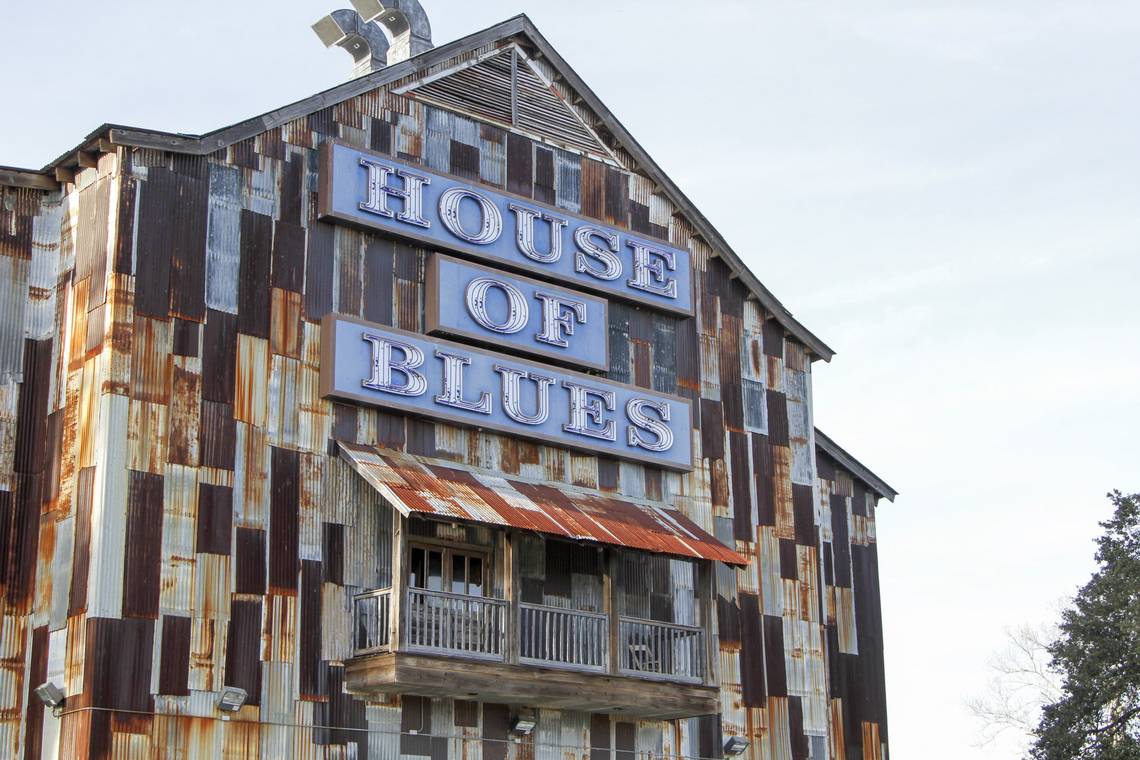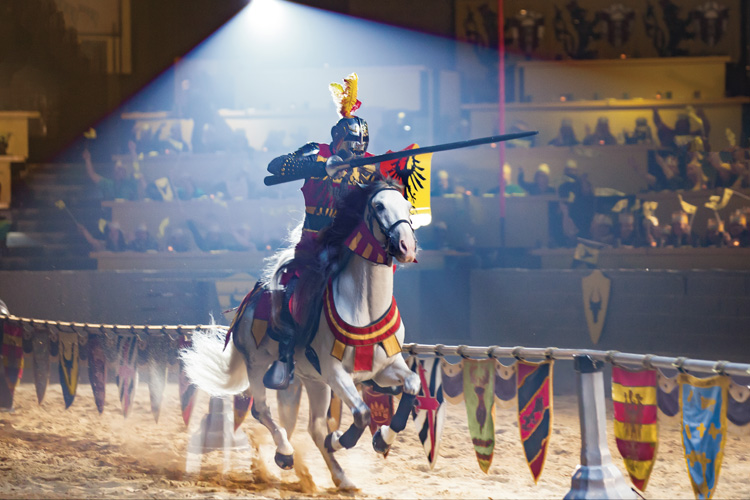 Have you ever wanted to experience what it would be like to witness a medieval joust, all while enjoying a delicious dinner with your family?  Then The Medieval Times is right up your alley!  The Medieval Times is a family dinner theater featuring staged medieval-style games, sword-fighting, and jousting. A true "must see" for your Grand Strand vacation experience!  
The OD Arcade and Lounge is the place to have fun and enjoy great food and drinks!  
Located in the heart of North Myrtle Beach, S.C, The mecca of The State  Dance of South Carolina, The Shag, The OD Arcade is a locals and visitors favorite hangout.
Have a drink or dine inside or enjoy their outside cafe and watch the traffic on Ocean Blvd. Come in and enjoy the live bands, karaoke, shag dance events, the latest in state of the art games, billiards, their awesome dance floor, DJ lineup & more!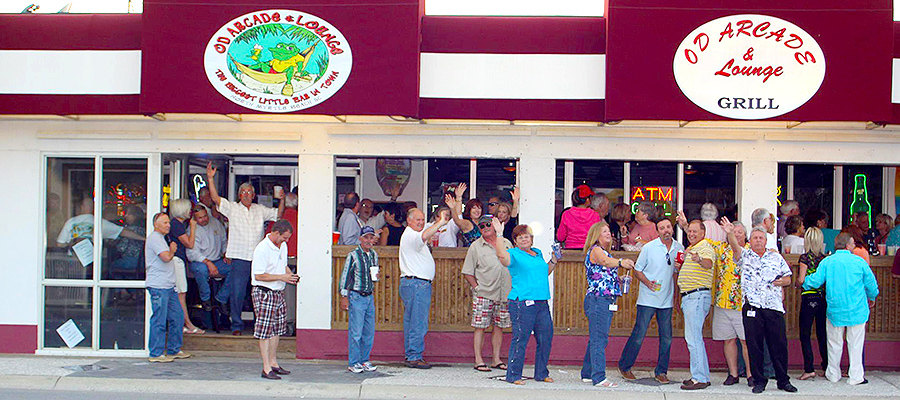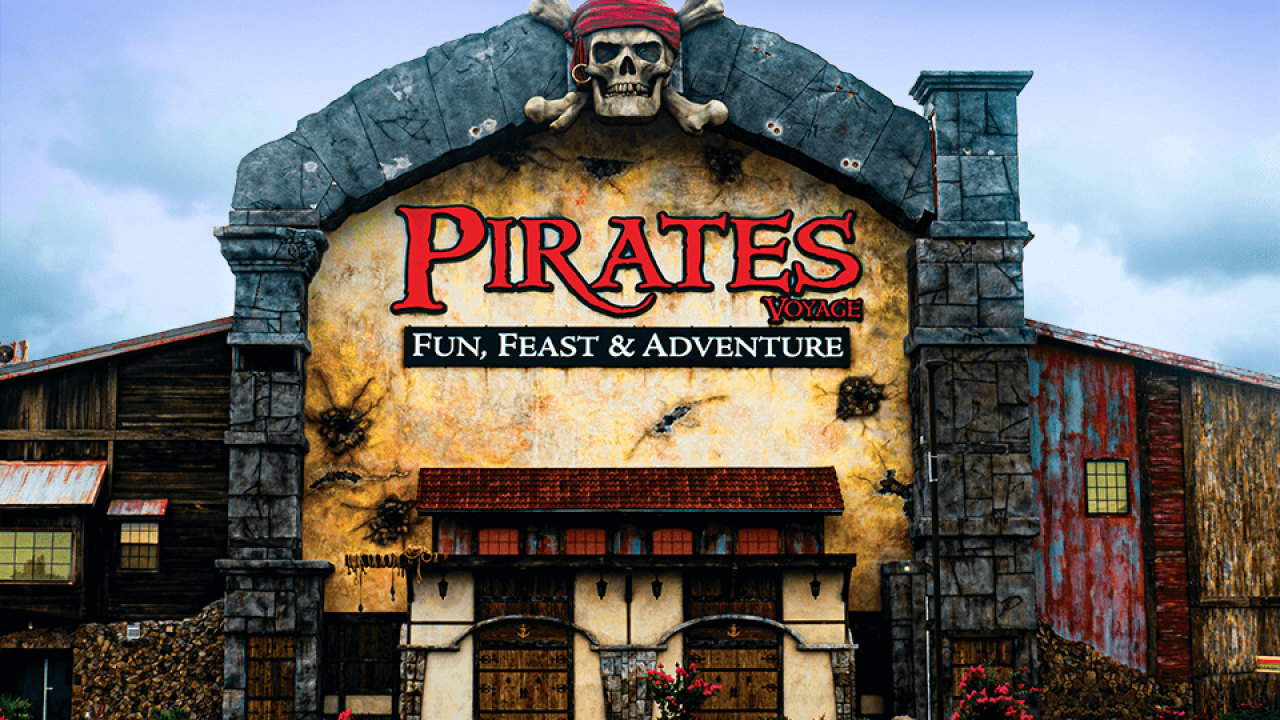 Pirates Voyage Dinner & Show invites you to join in the incredible adventure as their crews battle on land, on deck, in water, and high above full-sized pirate ships in a 15-foot deep indoor hideaway lagoon! This is a truely unique, fun-filled, family-friendly attraction and dinner theater everyone in the family will enjoy!
The first theater in Myrtle Beach and the only one to receive the Governor's Cup, the only theater to be designated "Most Outstanding Attraction" by the state of South Carolina, the only theater to be called "Top Myrtle Beach Attraction" by CNBC and the only theater to be voted #1 every single year! If you are looking for top quality Myrtle Beach Shows, look no further than The Carolina Opry Theater. This is one of our favorites….and this show is not to be missed!  If you only see one show, this is it!!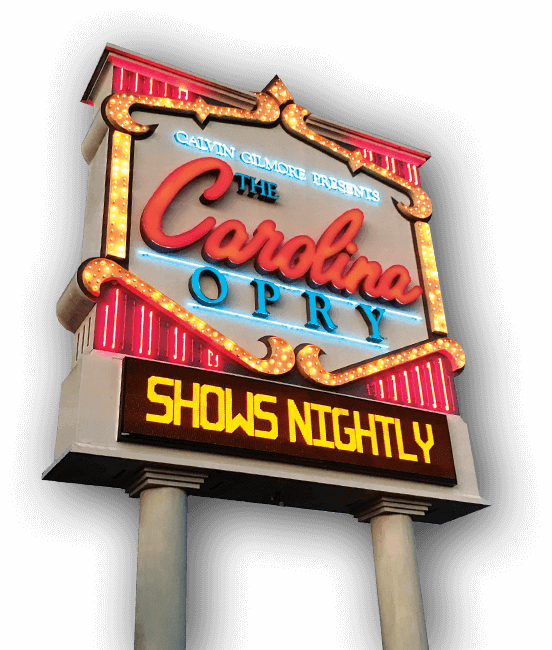 When it comes to water sports and aquatic adventures all along the Grand Strand, you can be sure to make some waves on your next vacation with plenty of options to choose from! Whether you're looking for a little relaxation, excitement,  or even a little of both, you're sure to find it with one of these options during your Grand Strand vacation!  
Standing out in one of America's favorite tourist hubs isn't easy, but Captain Smiley's fishing charters are here to show you that the action at sea is just as packed as it is on dry land! With the Intracoastal Waterway on one side and the Atlantic Ocean on the other, you'll have plenty to explore.  Contact Captain Smiley to set up your next seaside adventure reeling in the big one!
Built early in the 1950's and having been owned by the Prince family since 1965, The Cherry Grove Pier is a local institution!  The pier has weathered many a hurricane, and was remodeled and lengthened in 1999 after a visit from hurricane Floyd. With excellent views and awesome fishing, a visit to the Cherry Grove Pier is a must visit during your vacation!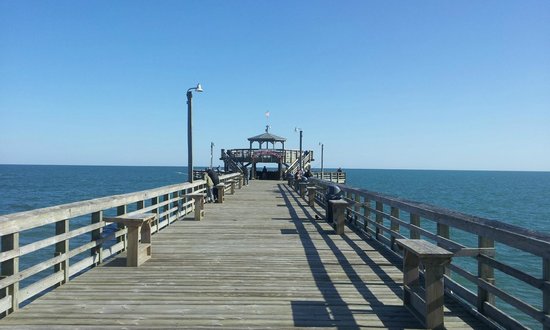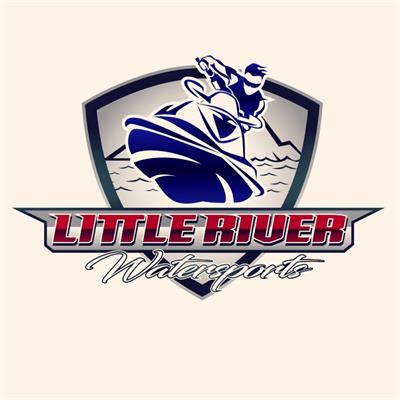 Little River Watersports is a jet ski rental company serving the Carolina's from Myrtle Beach, North Myrtle Beach, Cherry Grove, Little River, Atlantic Beach, Calabash, Sunset Beach, Ocean Isle, and surrounding areas of The Grand Strand!
Their jet ski rentals are conveniently located just a few miles from the touristic hustle and bustle of Myrtle Beach in the heart of Little River's historic waterfront, next to Crab Catchers. They are the closest jet ski rental company to the ocean on the beach. This allows them to provide you with the maximum enjoyment and entertainment options. Looking to get on the water?  Check out Little River Watersports!  
Water park lover?  Looking for some of the highest water slides?  Look no further than Myrtle Waves Water Park!  Myrtle Waves is South Carolina's largest water park with 22 slides and attractions for all ages. Family owned since the beginning, Myrtle Waves has been known for family fun and splashing good times for families returning to the Grand Strand year after year!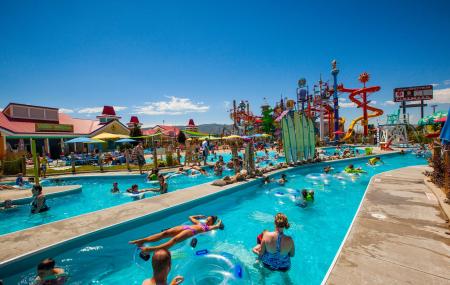 With three separate locations, Myrtle Beach Watersports offers the best activities on the water in the area including Little River, Murrells Inlet, North Myrtle Beach, and Garden City. Myrtle Beach Watersports is an excellent option for all looking to get out on the water…don't miss out on the fun!  
Whats a Myrtle Beach vacation without golf? Choose from close to 100 premier golf courses in the Myrtle Beach area! Enjoy fabulous golf at one of the many resorts designed by such honored architects as Jack Nicklaus, Arnold Palmer and Greg Norman. The Myrtle Beach Area is world-renown for it's golfing, with so many options available to explore!  
Make your next trip to golf in Myrtle Beach a visit to Barefoot Resort and play one of the best golf courses in the area!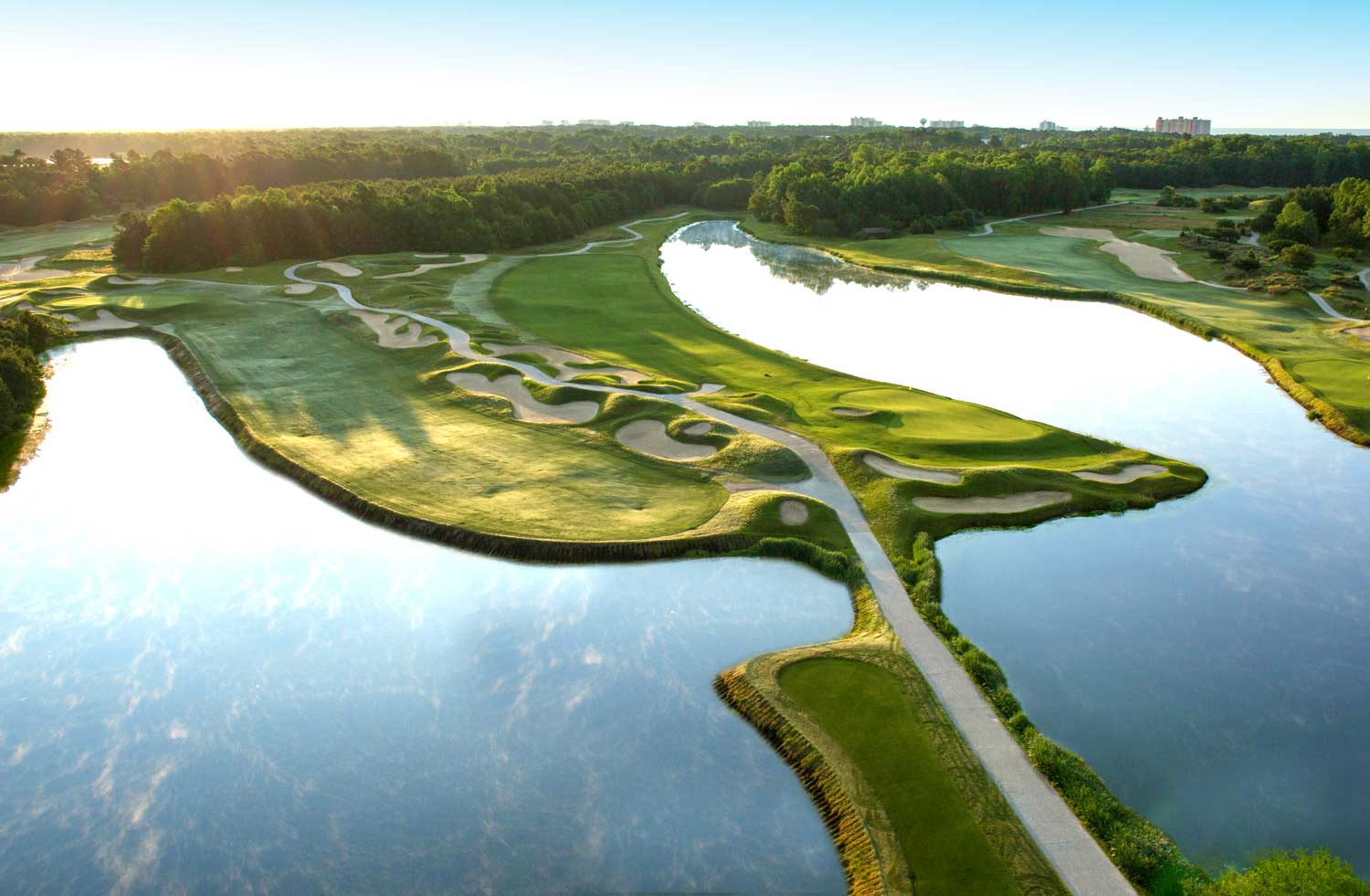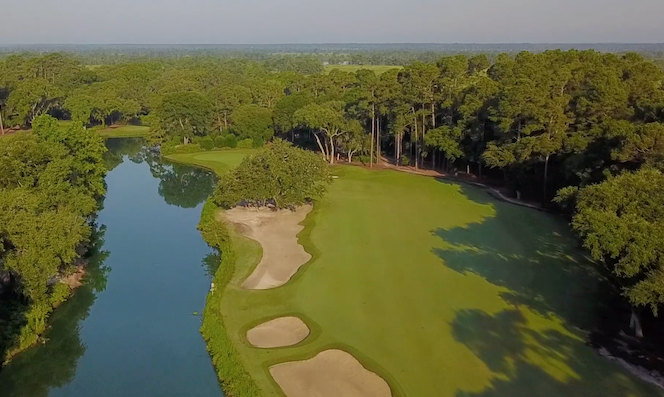 Caledonia has 18 holes, with large, creative greens guarded at times by ponds, streams or imposing bunkers. With majestic live oaks that overhang the entryway into Caledonia similar views frame many of the shots at Caledonia. This is a beautiful, established golf course and one definitely not to be missed!!
Sitting along the Shallotte River in Shallotte, North Carolina this Arnold Palmer signature design is by far one of the most scenic courses along the eastern coast of the United States.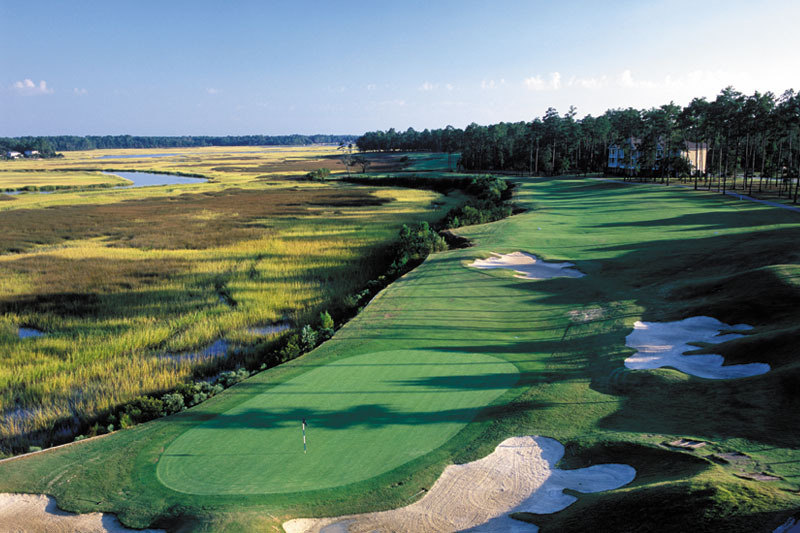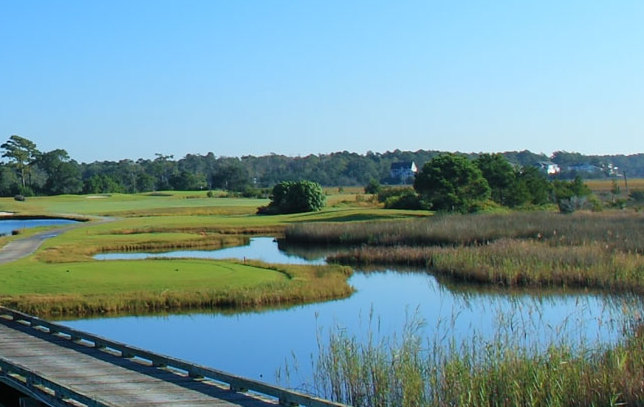 Showcasing magnificent views of the Coastal Carolinas, The Clubs at St. James offers i81 holes of exciting, challenging golf. Both ambitious and inviting, The Clubs at St. James defines diverse, adventurous golf experiences like nowhere else. With four immaculately-maintained championship courses and respective practice facilities to elevate your game. 
True Blue is a great example of Mike Stranz' unique design style that can best be described as artistic. The hole designs are incredibly memorable, particularly the par 3s, and the challenge is stout. True Blue is easily a Top 10 public course in South Carolina and an absolute must-play for anyone visiting Myrtle Beach.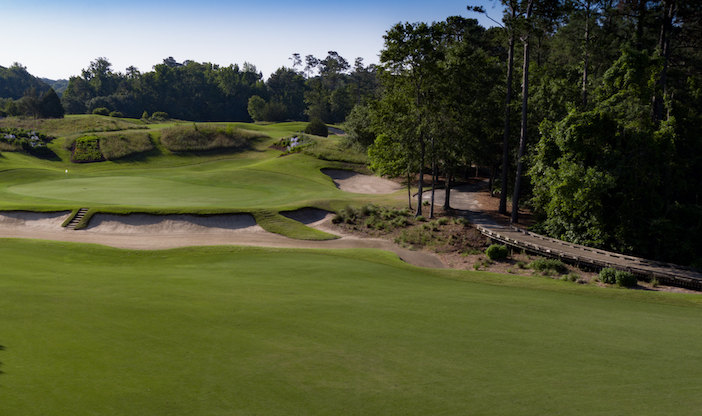 The Grand Strand area is a shoppers' paradise with a wide array of fantastic retail options all along the Myrtle Beach, North Myrtle Beach area!  
Shoppers will delight in our shopping malls, factory outlets, specialty shops, flea markets, consignment shops, and specialty boutiques!  
Visitors can indulge at one of the area's upscale retail stores at the Market Common, or enjoy outdoor shopping complexes like the popular Broadway at the Beach while hunting for souvenirs.
Bargain hunting is made easy here, too, with two Tanger Outlet locations offering tons of different name brand stores to choose from.
Whether you're a high-end, luxury shopper, or if you have more of a thrifty eye, the Grand Strand shopping scene has you covered!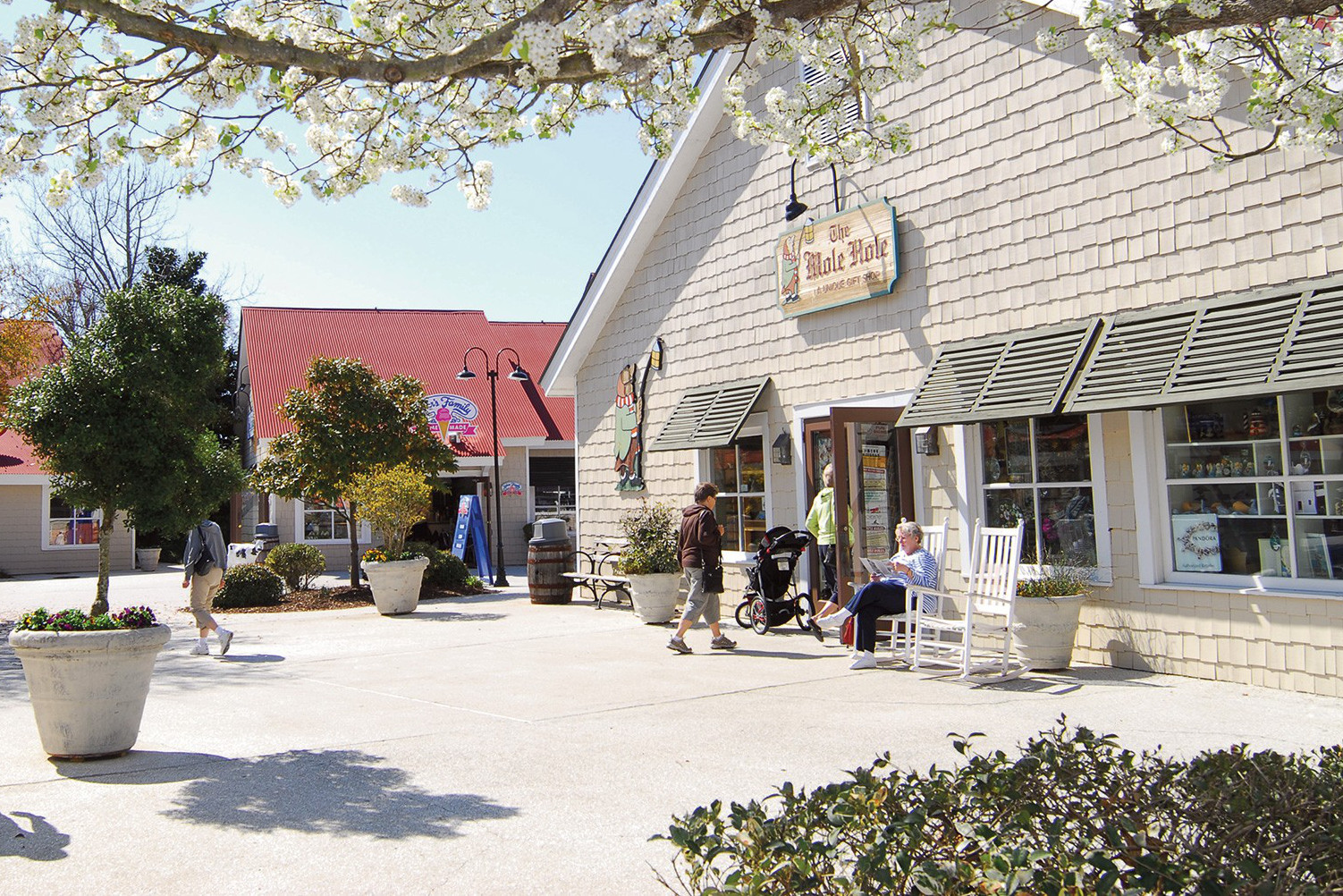 Built around a beautiful 27 acre lake, Barefoot Landing focuses more on the natural beauty of North Myrtle Beach and combining it with impeccable shopping, dining and entertainment. Barefoot Landing is a must stop on Grand Strand vacation!  This shopping and dining paradise is not to be missed while you're in town!
One of the greatest spots at Myrtle Beach is Broadway at the Beach!  Broadway at the Beach features 350 acres of shopping, dining and entertainment for the whole family!  There are dozens of stores for everyone in the family, and every type of dining you could want…no visit to Myrtle Beach is complete without visiting Broadway at the Beach!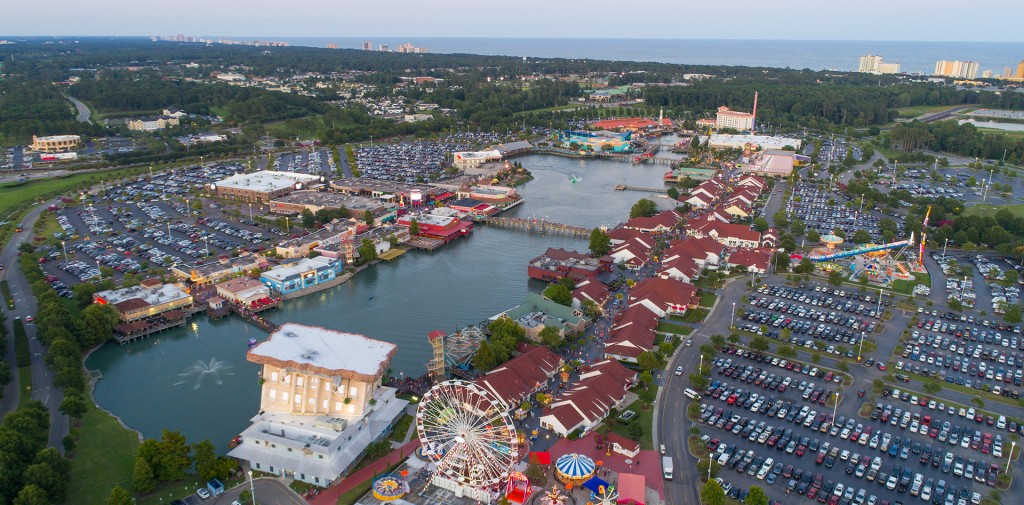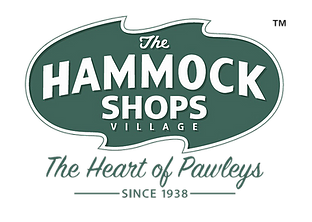 The Hammock Shops Village is home to the Original Pawleys Island Rope Hammock, where you can still view the weavers working the magic you remember as a child. Bring the entire family and spend your day browsing everything from fashionable clothing and shoes to handcrafted collectibles and jewelry, coastal-inspired treasures, wine, gifts, candy, specialty art, gourmet kitchen items, and more.
From Pottery Barn to White House Black Market and all the unique boutiques in between, there's fun for everyone with cool restaurants, bowling, movies, a day spa and exciting family events all year round! Looking for higher-end shopping, this is it!  The Market Common is a true shoppers' delight!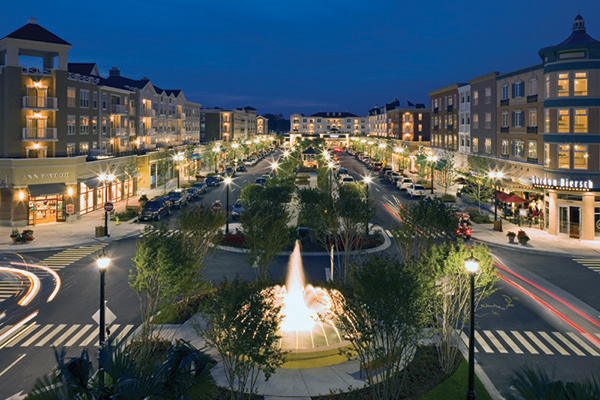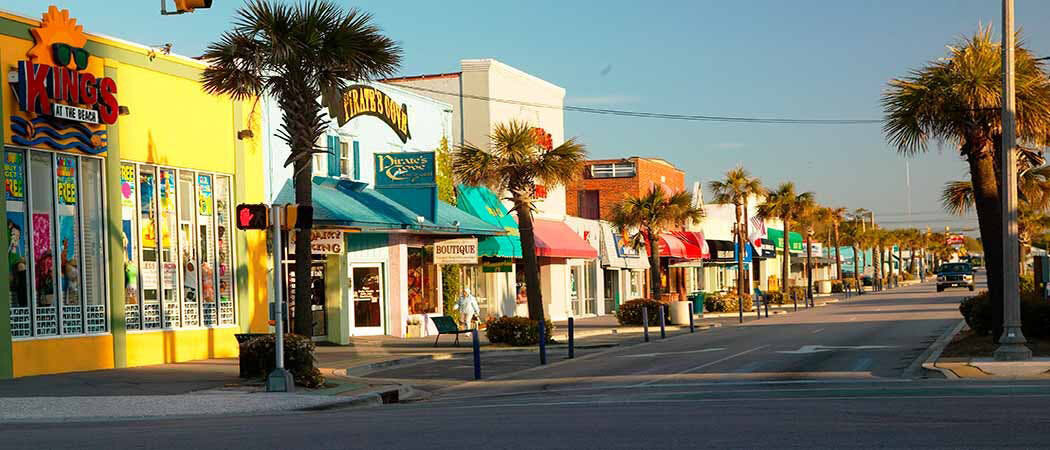 Locally-owned small businesses reign supreme on North Myrtle Beach's Main Street area in Ocean Drive!  Looking to shop local?  This is it!  On Main Street in OD, you have the coolest, speciality shops that offer one-of-a-kind merchandise for excellent prices!  Take a stroll up and down Main Street in Ocean Drive….you won't be disappointed!  
The two locations of the Myrtle Beach Area Tanger Outlets offers shoppers a wealth of outlet stores ranging from luxury items, to kitchen collectibles, to cosmetics and athletic shoes!  Variety is the key word at the Tanger Outlets!  Tanger Outlet One is located just off HWY 17 in North Myrtle Beach and the second center is located on HWY 501 in Myrtle Beach.